Collection:

Among Friends and Rivals: Caravaggio in Rome
Art Institute of Chicago
–
Two rarely loaned paintings by Caravaggio join works by his devoted followers in this intimate exhibition highlighting both the grand spectacle and intense influence of Caravaggio's extraordinary work.

Whether for his large dramatic canvases or his larger-than-life persona, the name Caravaggio evokes images of turmoil and violence, both sacred and profane. Born in Milan in 1571, Michelangelo Merisi da Caravaggio entered the robust Roman art scene around 1592 and, over the next 14 years, developed an original and captivating painting style that attracted eminent patrons and passionate followers, thrusting him into the public eye. The artist became equally known for his wild behavior; a street brawler, Caravaggio was familiar with the shady underworld of taverns and their clientele, whom he frequently depicted in his work.
Caravaggio's followers, known as the Caravaggisti, embraced the stylis­tic hallmarks of the painter's intensely naturalistic work. Like their trailblazing idol, they used models from real life, boldly depicting their quirks and flaws in dynamic compositions whose turbulent movement was revealed in dramatic extremes of light and dark. The themes and individual artistic approaches of Caravaggisti often depended on their direct or indirect relationships to Caravaggio—some knew the artist personally, while others knew him only through his work.
Martha and Mary Magdalene by Michelangelo Merisi da Caravaggio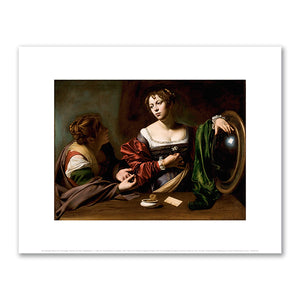 Regular price

from $20.00 to $120.00
The Cardsharps by Michelangelo Merisi da Caravaggio
Regular price

from $20.00 to $120.00