Collection:

Meadows Museum
During business trips to Spain in the 1950s, Texas philanthropist and oil financier Algur H. Meadows spent many hours at the Museo Nacional del Prado in Madrid. The Prado's spectacular collection of Spanish masterpieces inspired Meadows to begin his own collection of Spanish art. In 1962, through The Meadows Foundation, he gave Southern Methodist University funds for the construction and endowment of a museum to house his Spanish collection. The Meadows Museum opened in 1965 as part of the new Owen Arts Center at SMU. In the years that followed, Algur Meadows provided the impetus and funds for an aggressive, but highly selective, acquisitions program through which an extraordinary collection was developed in a remarkably short period of time. The Meadows Museum's vision is to be the leading center in the United States for exhibition, research and education in the arts and culture of Spain.
The Meadows Museum is housed in a two-story collegiate Georgian red brick building of approximately 66,000 square feet that was designed by Chicago-based architects Hammond Beeby Rupert Ainge and opened in 2001. The first floor includes a museum shop, an education studio, a classroom, an auditorium, and several public areas suitable for receptions and other events. Underground parking provides all-weather access for museum visitors.
The Meadows Museum dedicated its plaza and sculpture garden, designed by Dallas-based Swiss architect Thomas Krähenbühl of TKTR architects, in October 2009. The museum entrance includes fountains and access stairs leading to the sculpture plaza from Bishop Boulevard. The plaza features a permanent installation of monumental modern and contemporary sculpture by major artists, including the centerpiece of the plaza, Sho (2007), a 13-foot-tall sculpture by contemporary Spanish artist Jaume Plensa. The plaza's innovative design features four strategically located overlooks which provide shady, peaceful areas to view the sculptures. One of the overlooks provides a dramatic view of Santiago Calatrava's moving sculpture Wave (2002), permanently installed below the plaza at street level.
Adoration of the Magi by Rodrigo de Sajonia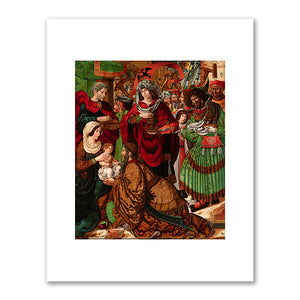 Regular price

from $20.00 to $120.00
Portrait of Marie Cronin by Claudio Castelucho y Diana
Regular price

from $20.00 to $120.00
The Smokers by José Jiménez Aranda
Regular price

from $20.00 to $120.00